Link to video 'Behind the Songs'
In this blog, Louise Jordan, talks about how she went about uncovering forgotten stories of women in the First World War for her song writing project 'No Petticoats Here'
As a musician I am constantly touring (link to gig list www.louisejordan.co.uk/tour-dates/). In September 2014 I enjoyed a week performing in Holland, Germany and Denmark. One of the songs in my set was Lovey Warne which I had written about a female smuggleress from the New Forest, where I currently live. There was something about the combination of sharing local history through this song that seemed to resonate beyond cultural boundaries and I returned to the UK wanting to do more of this.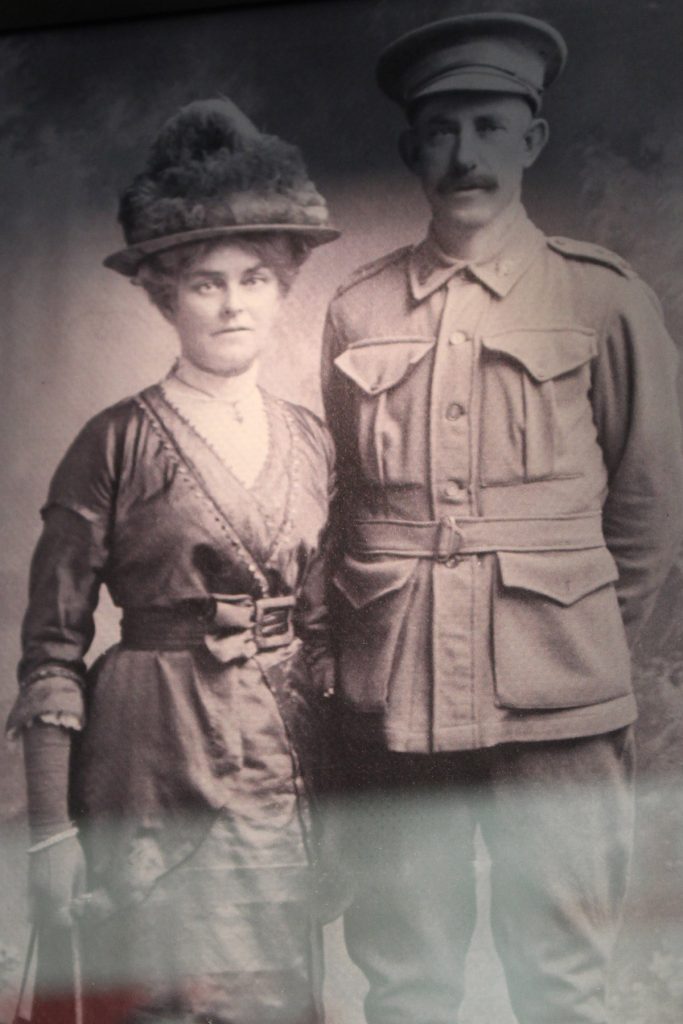 Sometime after returning from this European Tour, I asked my husband what he would like to do for his birthday in November and he suggested a trip to the battlefields on the Western Front. We spent two and a half weeks around the Somme staying in Premiere Classe 'hotels'. Yes; it was muddy and rainy, but we had a white van (R.I.P.), Wellington boots and a camp stove. Going back through my photos on my arrival home, I pulled out the handful of women's experiences of the First World War that I had collected evidence of. Often referred to as the wives of soldiers (photo of Private Thomas Alfred Pemberton and his wife in Fromelles Museum) and the nurses (often anonymous) that cared for the injured men, I kept returning to the portrait of Louise de Bettignies' (photo) which adorns the otherwise rather immaculate Basilica of the Notre Dame de Lorette. The conspicuous wooden frame provided me with a clear motivation: to share lesser known stories from the past and make room in our cultural memory for a more diverse range of experiences.
It was key to my research process that I had a motivation. I knew from the start that I needed to avoid scope creep. With so many books, museums, websites, blogs about the First World War I needed to be selective in my research choices. Having said that, as a non-academic I had to start with some general background reading.
I shared my idea for a project about women's experiences of the First World War with theatre maker Lizzie Crarer. Lizzie (founder of the Heroine Project Presents ) was working on a piece about Dorothy Lawrence. Dorothy published a book 'Sapper Dorothy Lawrence: The Only English Woman Soldier, Late Royal Engineers, Fifty-First Division' and reading Dorothy's own words provided further fuel to my passion for finding and sharing the lesser known female stories from the First World War. I wrote 'Freewheeling' using many of Dorothy's own words –an aspiring author Dorothy travelled to the Front Line on a bicycle to collect stories and take notes so that she could carve out a career for herself as an author, so it felt apt to tell Dorothy's story through the words she had written about her own experience. "I'll see what an ordinary girl without credentials or money can accomplish. …I'll see whether I cannot go one better than these big men with their cars, credentials, and money."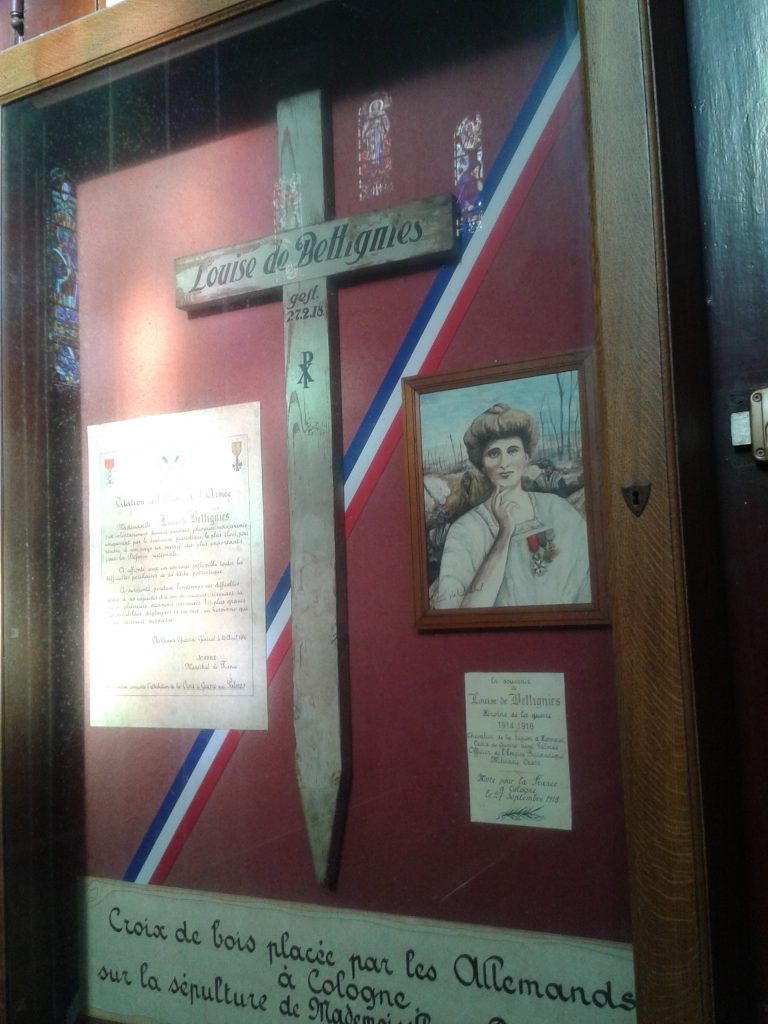 Despite my three-year stint teaching secondary school history (including a half term about the First World War to a disengaged class of year 9 students -I freely admit to using Sister Suffragette from Mary Poppins: don't ask) I realised I had never explored this period of history in any great detail. As a basic starting point, I turned to Kate Adie's book Fighting on the Home Front: The Legacy of Women in World War One. Literature provided a useful starting point and I read and ordered books from my local library, found second hand copies online and in bookshops and used footnotes to delve deeper.
Simple internet searches provided a surprisingly useful number of leads and one such took me to a website about Hampshire in the First World War where I found an image of Ada Yorke, matron of Winchester hospital during the conflict. Born in Winchester hospital myself I felt a connection to Ada but further internet searches (the website itself had been put together as part of a project and not maintained) meant I had to find another route. There were other images of matrons and nurses but armed with gut instinct and a (un)healthy dose of determination (obsession) I called the organisation that had been associated with this website project and they suggested a number of museum personnel I could try to contact. I followed all lines of enquiry with telephone calls and emails and eventually received a reply from a very busy curator. Ross Turle had made a video which includes a skype interview with Ada Yorke's granddaughter Mary and Ross put us in touch.
Mary told me more about Ada than I could have found anywhere else and with the passion, warmth, humour and pride only a relative can offer.
The image of Louise de Bettignies continued to haunt me. Through the kindness of friendly (also borderline obsessed?) #twitterstorians I was able to get in touch with Louise de Bettignies' great nephew who shared documents and who asked his grandson to translate original letters which I used to further my research and understanding of Louise's character, activities and motivations.
Back to the books and armed with the names of some of the women, I could use the internet, museums and record centres. The Hampshire Record Office and the Wiltshire and Swindon History Centre were all very accessible to a person who had never before stepped foot in an archive (although I have enjoyed some hundreds of museums since childhood). It was black and white images from scrapbooks and archived collections that really helped me to connect with the 'lived experiences' of factory workers and munitionettes. Researching the ways they were perceived by others within newspapers and letters /diaries documenting their day to day lives assured me that munitions and dock workers were far from appreciated by all, as the propaganda fuelled press suggested. One particular quote from the French Field Marshall General Joseph Joffre proved very helpful in writing the chorus for 'Toil, Women, Toil': '"If the women in the factories stopped work for twenty minutes, the Allies would lose the war".
One important aspect of this project which I cannot overstate is that historical research is a wonderfully social endeavour. It is a living study, bound up in concepts of remembrance, cultural inheritance and diversity. I have enjoyed exploring First World War women's history whilst taking account of contemporary parallels regarding women's roles in social, economic and political spheres. The insight this can offer with regards humanity and resilience are extensive. For me it has been crucial to speak to people and to share my energy and enthusiasm for this topic with others, whilst benefitting from theirs. Sharing live performances of No Petticoats Here across the UK reinforces the value of recognising women's experiences during the First World War –let us not forget so that we can continue to learn.
Louise has written a song for the Vote100 project (commissioned by Dr Naomi Paxton) which can be found below:
Also available here:
https://www.parliament.uk/about/living-heritage/transformingsociety/electionsvoting/womenvote/case-studies-women-parliament/what-difference/