Below you will find details of a range of  websites which offer suggestions for stories and research into the Home Front during the First World War.
Free Online Resources
BRITISH AND IRISH
General
The First World War years come at the end of this collection of English and Welsh language newspapers published between 1804 and 1919. It's possible to search by keyword, newspaper title and year(s), although the number of results returned can be daunting.
Among the many topics relevant to histories of everyday life, are reports from the Military Tribunals: including the appeal of the Mr Griffiths of Aberdare, 'a dentist, an operator and mechanic in the largest business of this kind in Wales' (Cambria Daily Leader, 2 Oct 1916)
Cartoons, trench publications and popular culture
Conscientious Objection
The Friends Ambulance Unit (1914-1919) was a civilian volunteer ambulance service set up by a group of Quakers during World War I. Its members from 1914-1919, both Quaker and non-Quaker, totalled over 1000.
The online site is primarily a family history tool and can only be searched by name. The records include information about the grounds for exemption from military service. Lawrence Cadbury, born 30.3.1889, from the Birmingham chocolate family, was deemed 'indispensable'.
This database carries details of over 16,500 men, uncovering their different experiences during the First World War.
Fashion and Consumption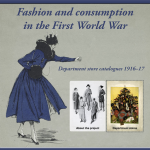 How did businesses respond to the economic dislocations of war and military recruitment? What impact did war have on fashion? Track the shift from evening gowns to 'useful gowns' through department store advertising; how large was the market in soldiers' and sailors' comforts compared with fancy fur neckwear? (Quite small if Bradley's 1916 Christmas catalogue is anything to go by.)
This digitized collection of 9 catalogues comes from Bradley's, Dickens & Jones, Peter Robinson (West End of London); John Barnes (Hampstead); and McDonald (Glasgow).
The story of their survival as a collection also adds an interesting footnote to the history of campaigns for permanent world peace.
Food and Farming
Literature and Poetry
First World War Poetry Digital Archive
Volunteering
INTERNATIONAL
This is a collection of 'books, images, historic newspapers, maps, music, archives and more' related to Australia. Material comes from libraries, museums, archives and other research organisations. Trove covers a huge range of topics and a very broad time span, including the FWW and its aftermath.
The digitized newspapers published before 1954 are out of copyright and can be reproduced and used as long as they are properly attributed. The website gives guidance here.
Trove opens material on Australian experiences of the First World War and perspectives on the conflict etc. Everyday Lives topics are well represented ; valuable too as a way of comparing experiences across the British Empire. Does British experience compare directly with lives led a hemisphere away? How typical or distinctive are the stories from your community?
Case study: Horses, strategies to requisition them for military use and the impact on farming
that followed as a consequence, feature in many local newspapers from the FWW period. Local libraries and record offices carry many of these either in the form of the original edition or a microfilmed or scanned copy. The loss of horses from the land, particularly during the harvest of 1914, generated quite a bit of comment and was one of the visible signs of the impact of the war on the Home Front.  In a rural world where the horse was still king, the loss of just one or two horses could have real consequences for the ploughman and his team, or the hay cart transporting the harvest. These issues were a global phenomenon as the 'Horse in War' article from Sydney, Australia, demonstrates:
Whilst farmers had to contend with bringing in the 1914 harvest and preparing for the year ahead, clearly there were
others who were quick to see an opportunity, as this Caution to Farmers which appeared in several newspapers in late August 1914 suggests. Issued by the government and sent out to newspaper editors it warns farmers against handing over their horses without the proper paperwork. It appears from the item that this was less a case of fraud and more a case of
enthusiasm to support the war effort getting out of hand, but one does have to wonder whether the less scrupulous saw this as an opportunity not to be missed.