Contributed by David Hewitt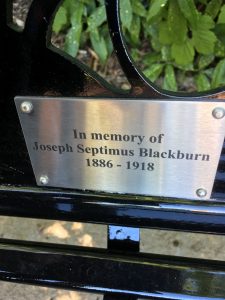 Under tall trees, in a quiet garden, a memorial has been unveiled to a controversial case from the Great War.
The memorial stands next to the Cenotaph in Thornton Cleveleys, on the Fylde coast, and its subject is Joseph Blackburn.
He was a market gardener from the town, who was forced to fight even though he had already volunteered to do so.
I have written about Joseph before, and also about an earlier, more transitory commemoration of his case.
Joseph, the war, a strike and a maddening memorandum
Two strikes, a hundred years apart
Joseph had been made exempt from military service by five councillors in Thornton who accepted his own account of the job he did. But that exemption was taken away by the Central Tribunal, which sat in Westminster, was chaired by the fourth Marquess of Salisbury and was the final authority in cases of this kind.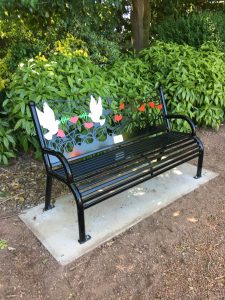 Lord Salisbury and his colleagues didn't hear from Joseph, who said he couldn't afford to travel to London, but that didn't stop them from returning a damning judgment in his case. They said he wasn't a market gardener at all, but "a mere hawker of fruit and vegetables", and within days, Joseph was putting on a khaki uniform.
The five councillors went out on strike because of the judgment in Westminster, and Lord Salisbury would eventually conceded that a mistake had been made. But that didn't help the man himself. He died in the fields of Picardy, in the dog-days of the last summer of the war.
For a while, Joseph was lost to history, but now, he and his sad and maddening case have a fitting, permanent memorial.
David Hewitt is a lawyer and a writer. His book about this case – Joseph, 1917 – is published by Matador and costs £8.99.