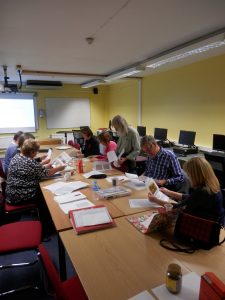 The Beyond the War Memorial Project has been moving apace throughout October and November, the group having held two more study sessions (21st October & 11 November). Our volunteers have been extremely busy during this period and have now researched the life stories of more than 150 students from the Fishwick area of Preston who attended the Harris Institute during the First World War. We have an excellent research sample which covers those enrolled in the academic years 1914/15, 1916/17 and 1918/19. Individual research stories continue to fascinate, from those students like John Eric Haugh whose studies were interrupted (in Haugh's case tragically ended) by war service, to those like Clifford Own Towler who engaged with study to developed their post-war vocations in science, engineering and commercial sectors (to name but a few!). Using this sample, we are now able to mine the date for trends and changes in student engagement with the Harris across the war years. To facilitate this our volunteers have been collecting their findings into a spreadsheet format which will allow identification, and comparison, of key information such as the student's economic background and family size.
In addition, we have been exploring ways in which we can further disseminate our research findings and create increased public engagement with the project. To these ends we are excited by the opportunities offered by Historypin; a digital platform where people can upload, and share, historical information (photos; videos; sounds; text). This offers us a great opportunity for volunteers to share their research findings with the local community in Preston and reach a broader, global, audience. Moreover, that platform includes a mapping element, in which historical information can be 'pinned' to specific locations. In the context of our research this will allow us to plot engagements with the Harris Institute during the war. By 'pinning' our findings to the home addresses of our students we will be able to see where within Fishwick students who attended the institute lived. This offers another element to our attempts at socio-economic profiling; it may be possible to identify certain wartime streets as educational 'hotbeds'! We are still developing our Historypin presence (but please do check back here to watch it grow.)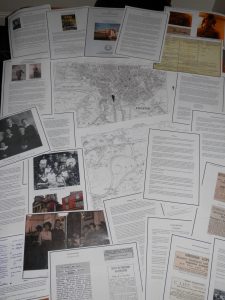 Most of our attention, however, has been concentrated on putting together a showcase exhibition to be held in the Harris Museum, Art Gallery and Library, Preston, on 19th November 2016 between 11am and 3pm.
Our exhibition is being held in conjunction with the Arts and Humanities Research Council 'Being Human Festival 2016' which this year is themed around the idea of 'Hope & Fear'. That notion seemed pertinent to our project because wartime engagement in education, and the opportunities that such engagement afforded people, potentially offered those in Preston hope which existed in contrast to the fear and loss caused by the war. We have therefore been very busy putting together banners and information sheets for visitors to explore (see picture for a small sample). We have also incorporated contemporary maps to illustrate our research methods. Moreover, there will be opportunities on the day for visitors to get 'hands-on' with the digitised Harris Institute Class Registers. Visitors can simply browse the registers or can look up family names to see if their relatives attended the Harris during the war. Moreover, any visitors who are currently resident in Preston will be able to look up their street or house to see if previous residents went to the Harris. Dr Keith Vernon and Dr Oliver Wilkinson will be on hand throughout the exhibition and some of our volunteers will also be coming along to chat about the project and share their expertise in researching through Ancestry, Find My Past and so on.
Further details about the exhibition can be found here.

If you live, work or study in Preston please come along and find out about those who lived, worked and studied here a century ago!