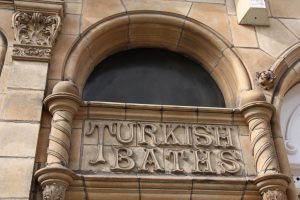 Jan Aubrey-Williams, a volunteer on the Beyond the War Memorial Project, has discovered a 'steamy' story while working on the students enrolled at the Harris Institute during the First World War.
While investigating Thomas King Wignall, who was enrolled on a 'Technical' full course at the Harris Institute in 1914/15, aged 18 years and 11 months, an apprentice engineer, and living with his parents at 4 Albyn Bank Street, she uncovered an out-of-the ordinary business operating from the premises:
Thomas King Wignall (Snr) and his wife, Emma Porter, married in Preston in 1889. They had four children, only two of whom survived infancy. Thomas King Wignall (Jnr) was the eldest surviving child, born in 1894, at Gateshead, Durham. His younger sister, Sarah, was born in Preston in 1900.
At the time of the 1901 census the family were living at 4 Albyn Bank Street and it was from here that Thomas King Wignall (Snr) was running a Turkish Baths (see the 1905 Kelly's Directory pictured). Indeed, the baths were clearly both popular and profitable, for, in 1911, Thomas' Turkish Baths were still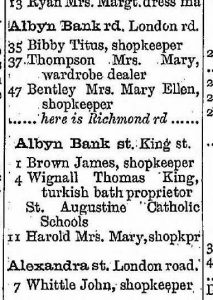 in business. Thomas (Jnr) was now employed as a coach builder, while his younger sister, Sarah, was in school. In fact, Thomas King Wignall (Snr), Turkish bath proprietor of 4 Albyn Bank Street was still listed in the Kelly's Directory of 1924 and it appears that his business operated until the early 1930s. On the 8 July 1934 the Lancashire Daily advertised a 'Turkish bath sale, old established and well known: Owner retiring; apply 4 Albyn Bank Street Preston.'
The street still exists but the houses have been replaced (and there are no signs of any Turkish Baths!).
Jan's research into Thomas (Jnr) is ongoing and she is following leads that he served in the Royal Navy in 1918. Additional digging into the 'Turkish Baths' indicates that the Wignall's business may have been the longest running of five such establishments that existed in Preston. The last to close were the baths located in the Miller Arcade (operated between 1901-1947). The surviving entrance to these baths still exists (pictured). Others were located at 58 Albert Road (operating between 1891-1909), 27b Church Street (opened in 1876) and Grimshaw Street (operating between 1869-1895).