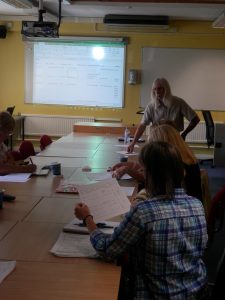 The Beyond the War Memorial Project held another study session on Friday 16th September at the University of Central Lancashire. Our research into student's enrolled at the Harris Institute during the First World War is now progressing really well with our volunteers' hard work enabling a detailed picture of the Fishwick student's lives. As our research continues we are seeking to draw this data together to identify patterns and trends which may offer insights into access to education, related employment opportunities, the impact of the war, and social change. One area in which we are very interested in exploring is the socio-economic background of the Fishwick students and the changes and continuities in such backgrounds over the course of the war.
Pat Cocker is one volunteer working on the project who has noticed an interesting trend regarding one family from the Fishwick area which indicates socio-economic mobility for younger, male, family members.
She has been looking into the life of Thomas Higginson (1894-1949) who was enrolled at the Harris Institute in 1914/15 on a course in 'Building', aged 20 years and 7 months, living at 243 Manchester Road and working at the time as an Architect's Assistant:
In 1901, the Higginson family lived at 63 Manchester Road where the father, Richard, was a commercial clerk and the mother, Martha, appears to have worked in the home. At that time there were five children working: Mary, 24, a cotton weaver; Arthur, 19, a cotton weaver; Joseph, 18, a cotton weaver; Ellen, 15, a gold and silver embroiderer; and Annie, 13, a cotton weaver. There were also three younger children still at school: William, 12; Walter, 10; and Thomas, who was the youngest, aged 7.
By 1911 the family had moved to 234 Manchester Road. Martha had been widowed in 1908 and her eldest son, Arthur, had married and left the family home address.
It would appear, however, that between 1901 and 1911 the three youngest children – all male – were making progress in terms of their occupational status in contrast to their siblings.
While Mary, Joseph, Ellen, and Annie, all retained the same occupations as in 1901, working in the textile industry, the three youngest had left school and gone into 'white collar' jobs. William, aged 22, was a clerk at the electrical supply works; Walter, 20, was also a clerk at an engineering works; while Thomas was an architect's junior assistant. Thomas' enrolment on a 'Building' course at the Harris can thus be directly linked to his career development in that job. His studies at the Harris were clearly vocational, potentially being a requirement of his employment. Employment in these sectors was not a complete departure for the boys, for their father had been a clerk, but it was markedly different to the path taken by their elder siblings.
One can speculate that between 1901 and 1911 the family had been able to provide the opportunity and aspirational encouragement for the three youngest males to avoid factory work in the textile industry and instead pursue employment in clerical roles. Perhaps there was more money available to the household for the young boys because there were six wage earners. This may have enabled them financially to pursue further study which then brought better employment prospects. It is also interesting to consider the significance of gender. Perhaps the three girls were expected to marry and thus their manual work was considered adequate prior to finding husbands; subsequently the girls may have been expected to become housewives to better paid male breadwinners. The younger boys, by contrast, may have been afforded more educational opportunities to enable them to secure better employment prospects and become male breadwinners in their own households.
It is uncertain whether Thomas served in the First World as there are numerous men of the same name in the Medal Roll Cards. If he did, however, he survived the war because he married Winefrid, nee Serjeant, in 1925. They had no children. Thomas died in 1949 aged 55. He had been living at 31 Frenchwood Avenue, Preston. Probate of £2,336 was granted to Thomas' elder brother, Walter, and to John Serjeant, Winefrid's brother, both of whom were clerks. Winefrid's father was an elementary school headteacher and if Thomas' family had had aspirations for him to socially progress then his marriage to Winefrid no doubt was deemed very suitable.
NB: The spelling of both of Winefrid Serjeant's name is taken from the 1911 census filled in by her father. Her name is often transcribed differently.
Pat's research raises questions in relation to familial patters of employment, the family economy, education and social mobility. The influence of gender on these questions is also apparent. As the BWM Project research continues we hope to pull together such trends to further address such questions.
The project will continue until December and we have study sessions planned for October and November. We will also be holding an exhibition in November based on the project findings. Please check back to these pages for further updates.