The Beyond the War Memorial (BWM) Project held its third study session on 12th August. Seven of our volunteers attended and the session provided an opportunity to consolidate the findings so-far and plan ways forward. In addition to thinking about our ongoing research we spent time discussing ways to disseminate our findings through online platforms, exhibitions (static and 'pop-up') and via publications. As part of this we would like to take the opportunity here to provide some insights into the type of information we are finding on students (and their families) who studied at the Harris Institute during the war.
Elsie Beatrice Guard (1890-1969), for example, was one of only seven women from the Fishwick area enrolled for evening classes at the Harris Institute in 1914/15. The register tells us that she was doing a module in 'English', aged 23 years & 10 months at the time, living at 74 Fishwick Parade and occupied as a weaver.
Helen Howell, a volunteer on the BWM project, armed with these sparse details has been able to piece together the following story of Elsie and her family:
During the Second World War, Elsie Beatrice Guard found herself at Preston Borough Police Court, where she was fined 20 shillings for failing to screen a light in a lock-up shop in Church Street. At that time, she was working as a sewing machinist.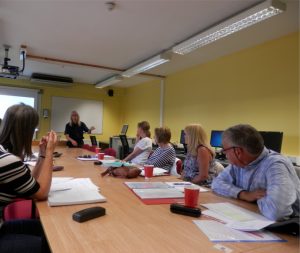 Sewing, and specifically 'The Singer Sewing Machine Company', was a thread that connected her whole family. Her father, Thomas Edmund Guard, although born a farmer's son in Somerset, was a sewing machine agent and manager at the Company. His job had taken him and his family from Somerset to Wales (Cardiff, Newport, Abergavenny and Pontypool) then to Shrewsbury and eventually to Preston. In 1911 he was working on his own account as a dealer in sewing machines, selling and hiring sewing and wringing machines from his shop at 70 Meadow Street. His wife Mary Ann came from Manchester.
Elsie Beatrice was born on 31 October 1890 in Abergavenny and was 7 when the family moved to Preston. She was to be one of eight Guard children (with 2 brothers and 5 sisters).
Her father was a firm believer in education. All of his children went to school. Elsie attended George Street Infants School in Pontypool from the age of 4. She went on to study Dressmaking at the Harris Institute in 1910, followed by an extra course in English in 1914/1915. By 1920, she had completed the 3rd year of a millinery course at Fleetwood Technical College.
Elsie's sister Edith had also studied at the Harris Institute in 1910 taking courses in the Principles of Cookery, Practical Cookery and English. The two sisters were close. Elsie didn't marry and in the 1930s she lived with her sister Edith at 20 Raven Street in the Deepdale area of Preston.
Elsie's brother George followed in the footsteps of their father and became a salesman for the Singer Manufacturing Company, her other brother, Thomas, worked as a shopman. Meanwhile her other sisters, Rhoda, Mabel and Minnie, worked in their father's shop. Another sister, Clementina Gertrude died aged 5. Tragedy struck again when Minnie died in 1906 when she was just 14. Mary Ann, Elsie's mother, died in January 1915.
Later in that year, Elsie's younger brother, Thomas, enlisted for service at Preston at the age of 17, declaring that he was 19 years and 6 months. At 5' 7", 119 lbs, and with good physical development, he was accepted and posted as Private 63037 with the Royal Army Medical Corps. Thomas was, however, severely shortsighted. Indeed, in September 1915 he spent 17 days at Belmont Road Auxiliary Hospital, Liverpool with DAH – Debility-Myopia and Astigmatism, and a rapid heartbeat. Nevertheless, from 24 December he served in Mesopotamia. His war pension record shows that in May 1916 he was debilitated due to strain with a 50% degree of disablement. His astigmatism and myopia was aggravated, he was markedly anemic, suffering weakness, breathlessness and was incapable of sustained exertion. On 4 June 1919 he was discharged from the army due to sickness and was awarded the Silver War Badge.
Tragedy, however, struck the Guard family again on 21 November 1920 when Thomas was killed when the motor cycle he was riding collided with a bus. The bus contained members of the Leyland Motors football team, who were returning from a match in Lancaster. The accident happened in Liverpool Road, near Woodcock Hall, between Lostock Hall and Bashall. Thomas died of his injuries in Preston Infirmary. He was just 22 and had been returning home after visiting his fiancée in Leyland. His father told the inquest that his son wore glasses, and if it was windy, he wore goggles over them.
Elsie's older brother, George Arthur Smith Guard, had married in 1906 and lived in St Annes and later Fleetwood. It was there that he had enlisted on 11 December 1915. He was posted Private 34700 with the King's Own Royal Lancaster Regiment. He served in France and it was here, at Etaples, that he was injured. His wasn't, however, a conventional war wound. In fact, he was crushed between a locomotive and a coal stack, injuring his chest and back. In a statement to the pension board he described what had happened:
"Whilst working on the railroad on the 10th August 19[17] I was near an engine shed, when an engine approached without giving any warning. I ran to what I thought was a place of safety, but was caught…..between the side of the engine and a coal [stack] I was rolled along for some distance before the [engine] could be stopped. By that time I was in a….condition, being unable to walk, stand or sit."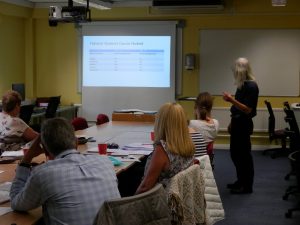 He was treated for a fractured pelvis at 24th General Hospital, Etaples. From there he was sent to the Barry Road Military Hospital and Abington Avenue VAD Hospital, Northampton, where he spent 4 months, then to Knowsley Park Command Depot and Highfield Military Hospital, Knotty Ash, Liverpool. He was discharged from the Dispersal Hospital Preston on 23 January 1919. Yet despite his terrible injuries he was expected to make a good recovery.
George's first wife died in 1919. The following year he married Emmeline Smith. They moved to Chorley and, in 1939, George was once again working as a sewing machine salesman and collector. When Emmeline died in 1961, George was a retired nursery outfitter. He died in 1971.
Elsie's sister Mabel married William Hutchinson, a civil servant. They had 3 children and stayed in Preston. Rhoda married Frederick Moulding and had a son, Thomas, remaining in Preston until her death in 1974. Edith remained single, she died in 1937.
Elsie Beatrice Guard retired to 22 Ryefield Avenue, Penwortham. She died on 19 September 1969, aged 78.
Helen's research gives a fascinating glimpse into this family's experiences before, during and after the First World War. It reveals familial patterns of employment, opportunities and work for male and female members of the family, and the educational opportunities in Preston and how they were used. It also relates individual war experience to families and to 'everyday' experiences. The difficulties and dangers of wearing motorcycle goggles over glasses is a powerful example. Indeed, the story is particularly poignant in revealing everyday tragedies that this one family had to cope with alongside the upheaval of a world war.
We will be updating these pages with project news and research findings over the coming weeks. Our next study session is scheduled for the 16 September 2016. If you would like further details of our project, or have any information on student's who studied at the Harris Institute during the First World War, please contact Oliver Wilkinson ((OWilkinson1@uclan.ac.uk).