2 November 2014
'Staging the First World War' was organised and hosted by the Everyday Lives in War centre at the University of Hertfordshire on 15 October. This workshop, led by Dr Andrew Maunder, explored plays from 1914-18, and posed questions such as, Why might a theatre manager in 1918 have wanted to stage a play and why would his counterpart in 2014 want to do so? What challenges does this pose and how might these be overcome? John Brandon's 'The Pacifist' (1918) was used as a case-study, and copies of Brandon's play were made available in advance via the Centre's website. Various local community and theatre-writing groups were in attendance.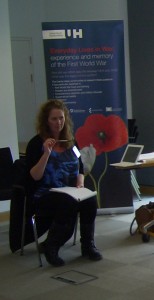 After Dr Maunder's welcome note, the session opened with Dr Jim Beach (University of Northampton and a member of the Centre) providing the historical background to Brandon's play. This was really useful for the exercise then set for the group by Delyth Jones, of the IO Theatre company (right). She challenged the group to think, not just about the characters as they appear in Brandon's play, but also about the events that precede those we see in the play. Did those events shape or change the characters? Does this help the director further understand the characters? Breaking into small groups, we considered these questions based on John Brandon's play.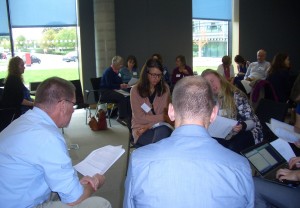 Delyth's group-work activity (pictured below) was then followed by brief presentations from Emma Blowers of Hertford Theatre and Maggie Smith, who created the revue Little Hadham Goes to War. These representatives of some of the local community groups present shared their personal experiences of planning and putting on First World War plays and revues. This was followed by a thought-provoking discussion among the group about the various approaches to staging such events.
Further reflections on the afternoon can be found on the Historical Pageants in Britain blog.