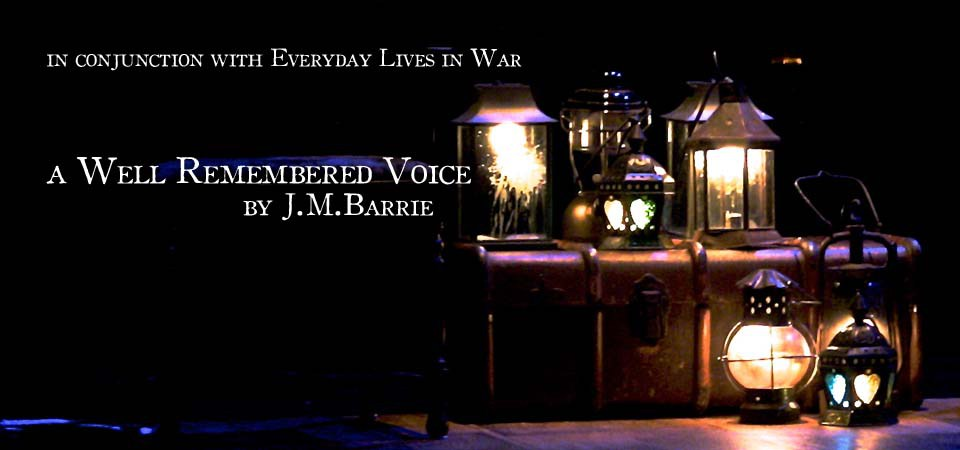 Contributed by Andrew Maunder
Our production of J.M. Barrie's play about spiritualism, A Well Remembered Voice, is heading out on tour in autumn 2016. A co-production with IO Theatre, it combines live music and physical theatre, mixing elegiac folk song against militaristic music and the youthful vigour of the playing field.
When written in 1918 A Well-Remembered voice was too controversial for the government censor and Barrie was forced to change it. This new production restores Barrie's original words and his message about the effects of the war on those left behind.
Background
A Well Remembered Voice was first produced in 1918 in aid of Countess Pamela Lytton's hospital for wounded soldiers situated at 37 Charles Street, London. Despite being well-received at the time it has never been performed since.
The neglect of the play is surprising given James Barrie's fame, not only as the creator of Peter Pan, but as one of the most successful and innovative dramatists of the early twentieth century. As a piece of war writing A Well Remembered Voice also responds powerfully to anxieties of the time, including the question of how best to mourn the dead.
Spiritualism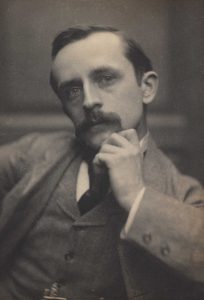 In writing A Well Remembered Voice J. M. Barrie was reflecting how the war-time population, faced with an unprecedented loss of life, were turning to spiritualism. The
practice was no longer seen as the preserve of eccentrics, as it had been before 1914. In 1919, a Roman Catholic bishop, James Wedgwood, author of Spiritualism and the Great War, noted how "a very marked change had passed over the face of popular thought in relation to spiritualism and psychical research…the appeal of a son cut off in the full flush of life's promise, speaking to his bereaved parents…is naturally great."
Barrie's own attitude to spiritualism is difficult to pin-point. His play shows what happens when a dead soldier returns to visit his father after a séance. It thus suggests that such things are possible. At the same time, A Well Remembered Voice satirizes spiritualism but recognises its appeal as a source of comfort for parents who will never see their sons again. During the war, this sense of finality had been compounded by the fact that in 1915 the transport of soldiers to England for burial had been prohibited. Families were denied funerals and the chance to say goodbye in the traditional sense.
The Lost Boys
Although J.M. Barrie had no children of his own, he was a famously devoted guardian to the orphaned Llewelyn Davies brothers—George, John, Peter, Michael and Nicholas – the models for the "lost boys" in Peter Pan.  Barrie lavished money and time on the boys, paying for their education and taking them on expensive holidays.
In 1914 George Llewelyn Davies (aged 21) was the only brother old enough to enlist. He tried to reassure Barrie: "Don't you get worried about me, I take every precaution I can and shall do very well." George's resulting letters were cheerful but also full of details about the horrors of warfare on the Somme – his witnessing a man getting the top of his head shot off when looked over a parapet.
Barrie's response was to worry endlessly. He counselled George:  "I don't have any iota of desire for you to get military glory… but I have the one passionate desire that we be together again once at least." This never happened. In March 1915, at Saint Eloi, George was shot by a sniper while sitting on a bank with other officers receiving a briefing from their colonel. Barrie received George's final letter after the news of his death. In the letter George spoke of looking forward to coming home.
A Well Remembered Voice has thus also been read as Barrie's writing out of his grief in the wake of George Llewelyn Davies' death. A recent biographer, Piers Dudgeon has claimed that "the returning soldier is recognisably George" (Captivated, 207). It has also been noted that what pity there is in the play is reserved less for the dead soldier than for his bereaved father. He is a man whose (British) sense of restraint stops him from expressing his anguish.
Tour Dates
4 October: Twickenham Academy
7, 8 October 7.30pm: OSO Arts Centre, Barnes
17 October 7.30pm: Weston Auditorium, Hatfield
29, 30 October 3pm: Leicester Square Theatre, London
For more details please contact Andrew Maunder a.c.maunder@herts.ac.uk