We are delighted to introduce our collaborative project on 'Commemoration in Irish Everyday Lives: Exploring the Legacy of the First World War in Diaspora and Irish Communities' through this first blog by Dr Ciara Meehan, project Principal Investigator. 
The Irish Cultural Centre was the first stop on my travels for this project. On a somewhat blustery October evening in 2018, I headed to Hammersmith for a community workshop. The purpose of the evening was to discuss family relationships to and memories of the First World War and the Irish Independence Struggle (1916, 1919-1921) with members of the Irish diaspora.
The Centre is wonderful at publicising its events, which usually attract a good crowd, but I wasn't sure whether this interactive event would draw the same audience. So I was delighted to have a good-sized turn out –– enough to get a discussion going, but not so great that it became intimidating. I think the tea, coffee and biscuits probably helped people to relax! The majority of those who attended were the adult children of Irish parents who had emigrated to England; others were, like me, Irish born and now living and working in England; and a couple were spouses who had come along to hear more about their partners' family history.
I started off the evening by giving an outline of the project, its aims and possible outcomes, and then I spoke briefly on the changing narrative about Irish involvement in the First World War. Before handing the discussion over to the room, I invited those who were comfortable doing so, to raise their hand if they wear a poppy. Nearly everybody put their hand up.
But as the evening wore on, it became apparent that their relationship with the poppy is complex, and that this symbol has held different meanings at different points in their lives.
Some claimed to have always worn the poppy, in recognition of relatives who had served and died in the First World War,
Others felt that they could wear the poppy in England, but not in Ireland.

Following on from this, several believed that the political environment in Ireland had shifted enough in recent years that wearing a poppy 'at home' could be acceptable.

Interestingly, there was a significant portion of the participants who felt that they could wear the poppy in England now, but would not have felt comfortable doing so twenty years ago.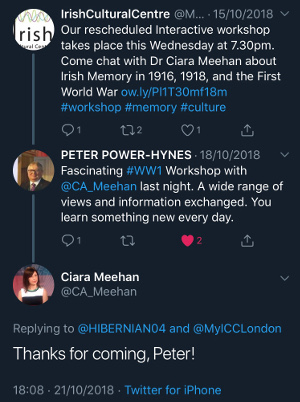 That latter point provided a really fascinating insight into the Irish diaspora's relationship with commemoration of the First World War.  A couple of participants were clearly very proud of their families' service and had never shied away from discussing it. For the majority, though, the familiar narrative was relatable – involvement was mentioned only in passing or never discussed. One man spoke of how he learned about his family's connection to the War only when his elderly father began to suffer with dementia and shared stories previously unspoken.
What really struck me was the shared view of several participants that, historically, being Irish in London made commemoration difficult. Or as one woman put it, being Irish was problematic. These speakers connected their identities in England to the troubles in Northern Ireland, and reflected on how IRA activity became the lens through which they were viewed – or, at least, they perceived they were being viewed that way. So not only did they not speak about the War or attend commemoration events, they hid their Irishness, too. The Good Friday Agreement of 1998 changed all that. And with Irish political leaders and broader society generally being more accepting of the contribution Irishmen made to the British army, it became easier to be Irish and to embrace commemoration in England. Mention was made of Dan Mulhall, the then Irish Ambassador to Britain, who laid a laurel wreath at the Cenotaph on Remembrance Sunday in 2014 – the first time that Ireland had been officially represented since the late 1940s. This was described as a proud moment.
When the workshops travel to Ireland and Northern Ireland, it'll be interesting to see the extent to which these themes, particularly the latter, are repeated.
Stay tuned for more!
Ciara Meehan is the principal investigator for the project, Commemoration in Irish Everyday Lives: Exploring the Legacy of the First World War in Diaspora and Irish Communities.