Contributed by Reg Harman
One day a very long time ago, as a British Rail management trainee in Scotland, I helped to clear out an old railway office in Glasgow, prior to transfer of all administration to brave new offices. A colleague found four metal badges jammed behind a drawer, where they appeared to have been for a very long time and asked if I would be interested in having them. As the alternative was their being binned, I duly accepted them, took them home and put them carefully in an envelope for keeping. Safe it was, as they didn't re-emerge until my wife found this envelope in the course of a recent 'spring clean'!
Examples of the front and rear of these badges are shown in the picture. They are circular enamelled bronze ones, with a lapel fixing. A dark blue ring round the outer edge has GLASGOW & SOUTH WESTERN RAILWAYS incised on it while the white centre has RAILWAY SERVICE in white under a red and bronze crown. On the back is embossed the maker, J.A.WYLIE & CO LONDON, together with  a letter W and a number, both stamped into the metal. The number is different for each badge.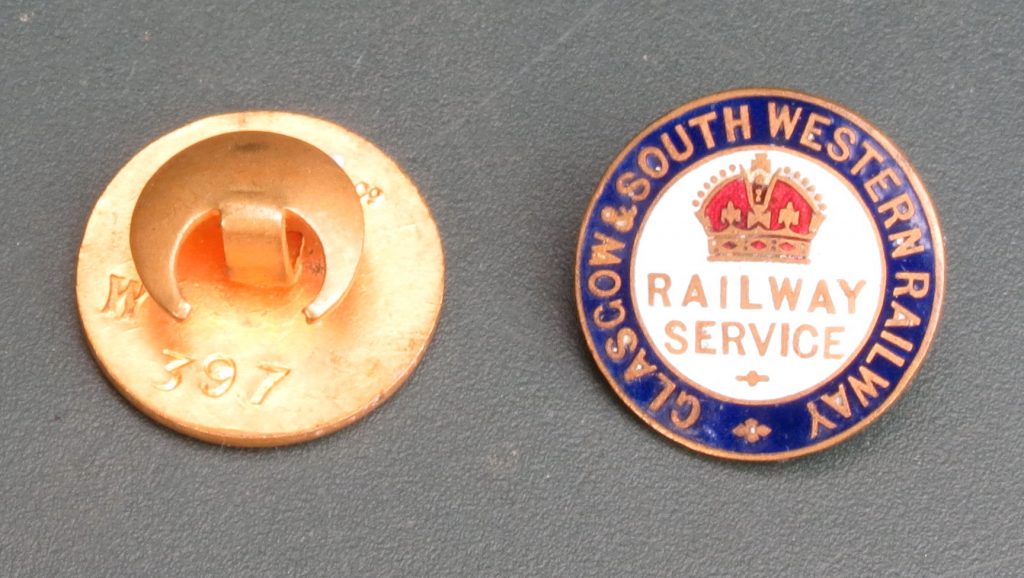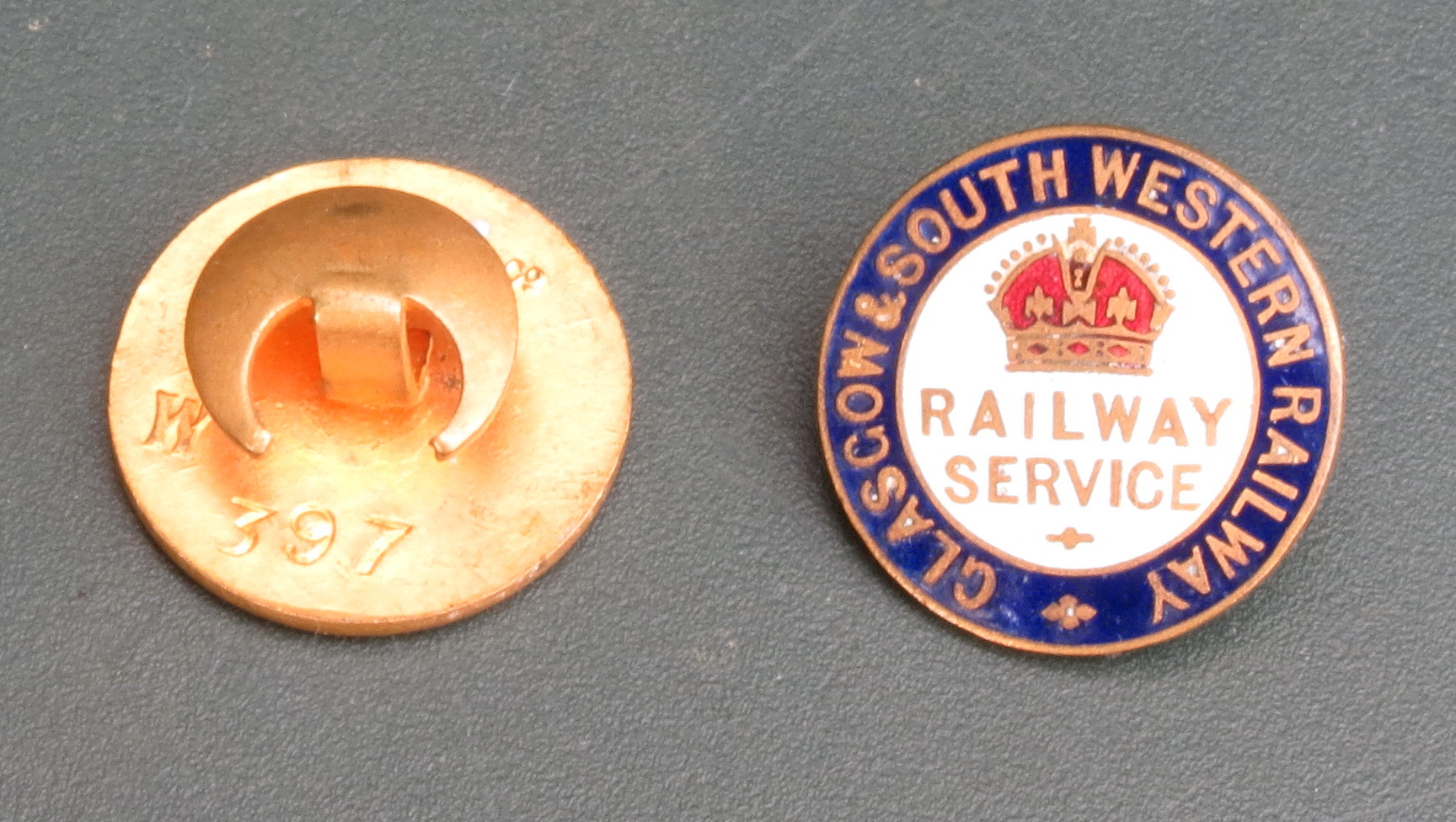 These war service badges had a distinct position in the history of the First World War. Until the end of 1915 service in the armed forces was voluntary, although many groups of men were keen to take part from the start in what was deemed a patriotic and potentially successful conflict. Reflecting this there emerged growing public antipathy and direct criticism of men who did not join up even though their age and health fitted them for combat. Some groups of young ladies went round handing out white feathers to any man they thought was shirking his responsibilities.
Of course many men were working as skilled employees in industries making a significant contribution to the war effort. In the era before road transport became dominant, the railway system was fundamental to transport of goods and people, including large amounts of military equipment and supplies and also military personnel. It was also vital to keeping the home nation supplied with food and household essentials, as well as supporting industry and commerce. So it was essential that railwaymen remained in their jobs, especially as most of those concerned with the actual transport – drivers and firemen, signalmen and control staff, maintenance fitters – were skilled tradesmen, not quickly replaced.
In work railwaymen wore overalls or uniforms. Problems arose when they changed into civvies to meet their pals in the pub in the evenings or accompany their wives on Sunday to church or on a walk in the park. To offset this, the railway companies together devised the numbered badges, which were issued to all staff in essential functions. Worn in the lapel of the jacket, which was normal wear for all men outside the home, they removed the risk of public criticism or a white feather.
The railway badges were similar to those issued by other industrial groups, such as manufacturers and ports. They were modelled on the standard munitions workers' badges issued by the War Office. These were effectively official Government Issue whereas the railway service badges, and those for other key industry workers, were officially regarded as private schemes.
The stamped numbers on the badges were central to their use, each badge being recorded by the railway on a register against its holder. The use and issue of badges was overseen by the War Office's Committee on War Service Badges. The practice and principles went through various changes, especially after conscription came in at the start of 1916. Holders of these badges were required to hand them in on leaving the service. Misuse of a badge, such passing one on to someone else, was a crime, serious enough to warrant the death penalty in principle for certain abuses (never actually implemented).
Full information about such badges can be found on the Imperial War Museum internet site:
http://www.iwm.org.uk/history/first-world-war-on-war-service-badges
and in two very informative private sites:
http://www.tomtulloch-marshall.co.uk/On_War_Service_Badges.html
http://www.sallysbadges.com/shop.php
All such war service badges are now collectors' pieces, including railway ones. From study of internet sales sites, the prices for WW1 badges vary from around £40 to £80 or more, depending on company – some are rarer than others – and of course condition. Obviously my own have a particularly interesting history. Presumably they were either issued and returned or not issued by the G&SWR. So some time during the War, or perhaps just after it, a busy clerk concerned with more immediate matters dropped them into the nearest drawer for attention later. Subsequently they got stuck in the back, leading to a century out of sight except for when they were dug out in the 1960s and I promptly returned them to hiding!