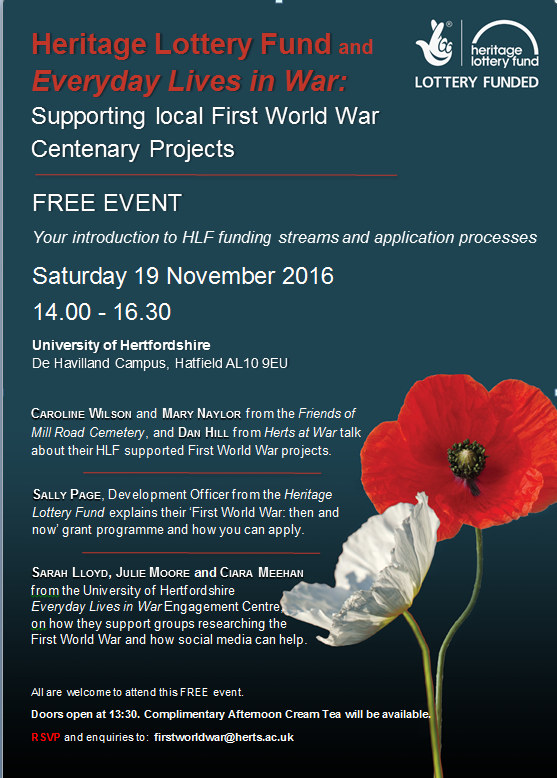 Dear Friends and Colleagues
If you are interested in the First World War and its legacies, and would like to find out how the Heritage Lottery Fund (HLF) supports local First World War centenary projects, you may be interested in this FREE event on Saturday 19 November at the University of Hertfordshire.
The Everyday Lives in War, First World War Engagement Centre and the Eastern Region of the Heritage Lottery Fund will present an afternoon of talks and activities. The programme includes an introduction to the various HLF funding streams and application processes. Two groups funded by HLF will showcase their projects and demonstrate a variety of possible approaches to First World War topics. We will discuss ways of creating a permanent record of your project, and how to negotiate social media. There will also be an opportunity to ask questions of HLF staff and to have help with completing an initial enquiry form.
Date & Time: Saturday 19 November 2016, 14.00 – 16.30
Place: University of Hertfordshire, de Havilland Campus
To book a place, please email firstworldwar@herts.ac.uk
Time for tea: through-out the event there will be breaks for refreshments, ensuring that there is plenty of time for everyone to share their ideas. To help with this there will also be a 'hands-on heritage' area to showcase some of the fantastic learning resources that have been created to share stories of the First World War with the support of HLF.
Guest speakers: Representatives from two voluntary organisations who have delivered projects, supported by the Heritage Lottery Fund, talk to us about how they explored local stories of the First World War, passing on their top tips to others who may be looking to do the same!
Friends of Mill Road Cemetery, Cambridge
Caroline Wilson, Chair of the Friends of Mill Road History Group, and Mary Naylor, a volunteer for Mill Road Cemetery, talk to us about their project, 'Commemoration of World War One in Mill Road Cemetery Cambridge'
This fascinating project – awarded £10,000 under the HLF grant programme First World War: then and now – saw the Friends research and restore First World War Common Wealth war graves within the cemetery, involve the local community through activities and events, as well as creating a trail, available to all on their website, here.
Dan Hill, Project Officer from the organisation Herts at War, talks to us about their project 'Herts at War 1914-1918', awarded a grant of £98,400 under the HLF grant programme Our Heritage.
Herts at War delivered their project in partnership with local museums and provided students, educationalists, volunteers and the wider community opportunities to undertake first-hand research into the lives of servicemen from their towns and create pop-up community exhibitions. Take a look at their website to find out more about this great project.
Heritage Lottery Fund, East of England
Sally Page, Development Officer, will be talking through how HLF can support voluntary groups and community organisations working on their local First World War heritage. Sally will explain how your local HLF team can provide advice leading up to submitting an application, the application process itself, and what happens if you receive a grant.
Time will be built into the afternoon so that you can talk with Sally and colleagues from HLF about your ideas.
Everyday Lives in War: First World War Engagement Centre
Sarah Lloyd and Julie Moore from the University of Hertfordshire will explain the role of the Engagement Centre and how it supports community projects on a range of First World War topics. Their colleague, Ciara Meehan, will lead the session on digital and social media.
We hope to see you there!
Best wishes,
Sarah Lloyd
Director: Everyday Lives in War, First World War Engagement Centre
University of Hertfordshire
http://everydaylivesinwar.herts.ac.uk/