This project arises from a collaboration between UCLan historians and Preston Remembers, an overarching initiative that has supported a range of activities to commemorate Preston's contribution to the war effort. http://www.prestonremembers.org.uk/ An important feature of Preston Remembers' work has been the 'memorial challenge' in which volunteers have sought out the myriad memorials located around the town in churches, schools, workplaces etc; and researched some of the people whose names are recorded.
We now want to go beyond the memorial to discover different stories of the First World War among those who lived, worked and studied in the town. The focus is on the people who attended the Harris Institute, the principal provider of higher and technical education in Preston and district, and forerunner of the university. These students lived in the same streets, sometimes came from the same families, as the fallen, yet their experiences of the war are likely to have been quite different.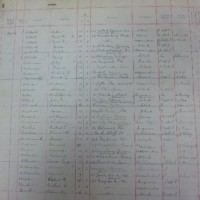 The UCLan archives hold a splendid resource, the Harris Institute Class Registers, which provide details of the names, ages, addresses and occupations of the students who attended, as well as the courses studied. This information for the war years has now been transcribed into a database that can be researched by new and existing cohorts of volunteers. The main activity of the project will be to research this database, to understand better the changing nature and scope of education as it was affected by the war, and to find out more about the people who attended. Those who have previously worked on the memorials may find evidence of brothers, sons and increasingly sisters and daughters of those who fought and died. Many students may also have served and come home again. New researchers may discover an aspect of the war not commonly represented in the centenary commemorations.
We hope that the project can reveal evidence of the impact of the war on education, work, service and opportunity. Were there new opportunities for study? Who took advantage of the changing situation? How did they use the new education acquired? We also hope that new stories and perspectives of the town at war can complement that discovered by the memorial research.
Over the coming months, a series of study sessions will be held to equip volunteers with the background context and skills to research the class registers. Local and family history research can then help to fill in some of backstories of the students. As novel or interesting results and case studies come to light, these will be posted on the website. A showcase event will be held in the Autumn to highlight some of the key findings.