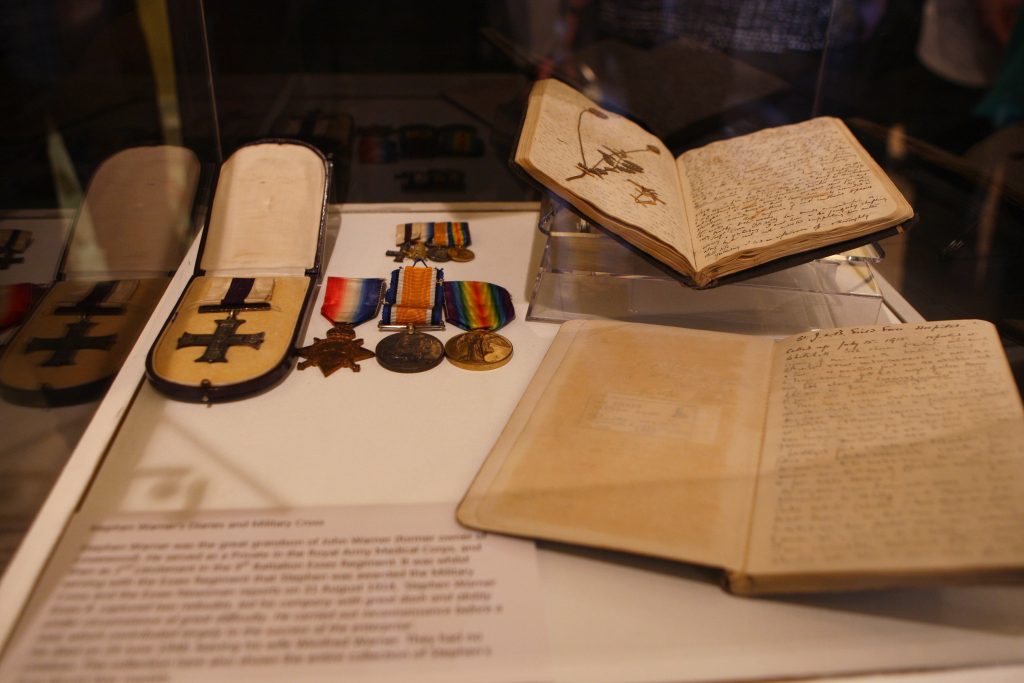 Lowewood Museum has received £68,500 from the Heritage Lottery Fund (HLF) for an exciting project, 'Stephen Warner – One Man's Journey Through War'.
Made possible by money raised by National Lottery players, the project marks the centenary of the First World War by focusing on the experiences of serviceman Stephen Warner.
Through the narrative of Stephen's diary, the project will explore his experiences with both the Royal Army Medical Corps and the Essex Regiment and will be presented through a series of community projects and an exhibition.
Project partners include the Essex Regiment Museum in Chelmsford, the Friends of Lowewood Museum, John Warner Secondary School and Hertford Regional College.
The project will enable local people to come together to preserve the memories and heritage of those who lived and served through the First World War. Design students from Hertford Regional College will create a graphic novel based on Stephen's diary, held at Lowewood Museum, and copies of the new novel will be distributed to all Borough of Broxbourne secondary schools. In addition to this, pupils from John Warner Secondary School will read excerpts from the diaries, and finally volunteers will be recruited to help catalogue and research the Stephen Warner archive at Lowewood Museum, and material held at the Essex Regiment Museum.
The project will come together in July 2018 with an exhibition at Lowewood Museum marking 100 years since the end of the war. The exhibition will then go on tour to Chelmsford Museum.
Councillor Dee Hart said: "We are thrilled to have received the support of the Heritage Lottery Fund for this project. This National Lottery grant is extremely meaningful in helping us commemorate the 100 year anniversary of the First World War, and will enable us to make the most of resources available to help create an impactful, educational and lasting project predominantly for our local community but also for the country at large."
Robyn Llewellyn, Head of HLF East of England, said: "I was fascinated to learn about Stephen Warner's diary during a recent visit and I'm delighted that the Heritage Lottery Fund can support Lowewood Museum to share his stories more widely. Thanks to money raised by National Lottery players, this project will provide a very special local perspective to next year's momentous national anniversary."
CALL FOR VOLUNTEERS

We are looking for a small handful of people who are enthusiastic about history and are interested in becoming involved in developing their experience in the world of heritage. If you would like to volunteer with us, carry out some work experience, or volunteer as a group of students working together on an aspect of the project, please do get in contact.
The five diaries were written by Stephen Warner whose grandfather lived in Lowewood museum when it was still a domestic property. Stephen signed up at the beginning of the war and served in the Royal Army Medical Corps until July 1917. Throughout this period of his diary he talks about his experiences working as an orderly in a field hospital in France. He also spent time in theatre assisting surgeons. His writings give a real insight into the types of wounds that soldiers sustained and the treatment of them, the quantity of casualties and the working and living conditions of the RAMC. From July 1917 Stephen served in the Essex Regiment as Second Lieutenant and fought in various key battles and reconnaissances in France. Stephen also collected flower cuttings and pressed them in his diary throughout his time in the war. He was awarded the Military Cross for distinguished service. He survived the war and died aged 68 in Alton.
Our projects and outcomes associated with the project are as follows:
·         Transcribing verbatim the five volumes of Stephen Warner's diary
·         Checking the accuracy and clarifying difficult words in transcriptions
·         Researching Stephen Warner, his family background and his life before, during and after the war
·         Researching the names of individuals mentioned in the diaries
·         Researching the movements and battles that Warner's division within the Essex regiment were involved with
·         Researching the RAMC and techniques they used on casualties
·         Helping to create an exhibition based on the research
·         Helping to create a graphic novel based on the diaries
·         Helping to create short films or sound bytes using excerpts from the diaries
·         Searching for visuals which could be used in publications and the exhibition
Lowewood Museum in Hoddesdon, Hertfordshire collects, preserves and presents the history of the Borough of Broxbourne, making it accessible for all to enhance learning and understanding of local heritage. This is achieved through museum displays, events and activities for all ages, school workshops and an identifications and enquiries service.
Lowewood Museum is owned by Broxbourne Borough Council and managed by Epping Forest District Council under a Service Level Agreement. Through this, Lowewood Museum works in partnership with Epping Forest District Museum located in Waltham Abbey, Essex.
About the Heritage Lottery Fund
Thanks to National Lottery players, Heritage Lottery Fund invests money to help people across the UK explore, enjoy and protect the heritage they care about – from national archaeology to historic parks and buildings, from precious memories and collections to rare wildlife.
Visit www.hlf.org.uk or HLF on Twitter, Facebook and Instagram and use #HLFsupported.
Further information
For further information, images and interviews please contact Carly Hearn at Lowewood Museum on 01992 564987 or chearn@eppingforestdc.gov.uk