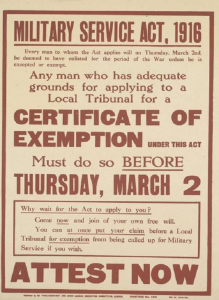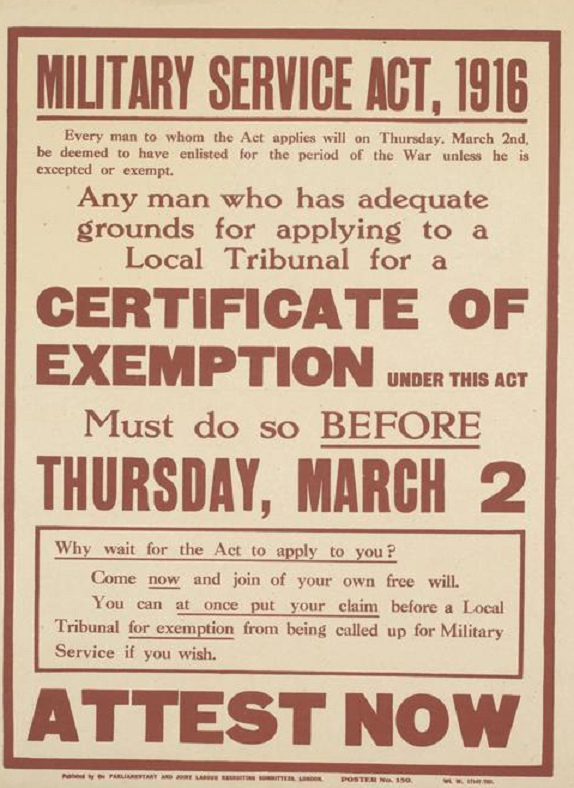 The Lancashire Archives reports the following in their January Newsletter: 'For the past two years a couple of our volunteers have been hard at work indexing an important collection of military tribunal papers. William King Wilkinson of Whiteholme, Slaidburn was appointed as military representative to the Bolton by Bowland tribunal in Feb 1916, making him a key decision maker at tribunal appeal cases in the Bowland area. At the end of the First World War the government issued instructions that all tribunal material barring sample collections at Middlesex and Lothian should be destroyed. Yet King-Wilkinson chose to retain a large amount of material which was subsequently deposited with the rest of his family papers.
Probably of most interest to family historians are the almost 1500 individual tribunal applications. Application forms can include a wealth of information, both about the individual applying and the business at which they work. This may include details about the numbers of people at home, their health and earnings or where an individual works on a farm, as many in this rural area do, acreage and number of livestock cared for. In fact these factors play a much larger role than the popular media perception of the military tribunals may imply, with the vast majority of exemption claims relating to family and business needs, and only two claims of conscientious objection found within the entire collection.
The collection also includes printed circulars and other material designed to offer guidance to the tribunal to aid with their decision making. These include a fantastic publication entitled 'Women's War Work' which features a list of jobs currently being undertaken by women throughout the country, as well as photographs designed to prove their capability and stop any claims that men should be able to avoid conscription as women are unable to replace them.
The full name indexes can be found online on LANCAT within the King-Wilkinson collection (DDKW).' Link: http://archivecat.lancashire.gov.uk/calmview/
This description accords well with what researchers have found in other places: the small number of claims for exemption on grounds of conscientious objection compared with economic and personal circumstances; plus the rich details of local life recorded by the tribunals. [Link to our MT workshop]
The Lancashire survival is only one of a number of collections which were retained contrary to official instructions. The National Archives lists 95 of these, in addition to the Middlesex Appeal records and a similar set for Lothian and Peebles in Scotland, which were officially retained alongside a sample of records from the Central Tribunal (part of the MH 47 series). Search for 'military service tribunals' in http://discovery.nationalarchives.gov.uk/ for details.