Keynote: Professor Jay Winter, Yale University
A 1-day Symposium to be held in the Centre for the Study of Modern Conflict at the University of Edinburgh on Saturday 18th March 2017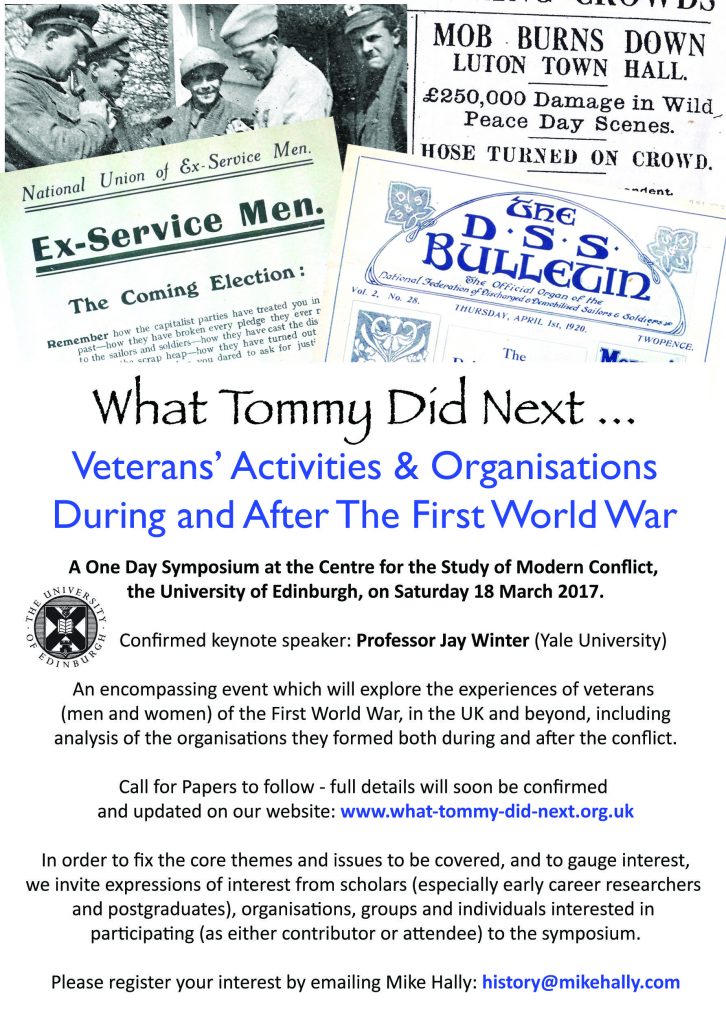 Context
Before the First World War the UK had a small standing army, with few state supports for veterans or their dependents. The recruitment of a mass army, beginning in August 1914 and extended through the introduction of conscription from 1916, prompted significant changes. The military was no longer drawn from the poorest sections of society but encompassed a much wider demographic. Moreover, women entered the military services for the first time in British history. Concomitant changes in state supports for servicemen, servicewomen and their dependents were demanded. Yet while some improvements were seen, notably the extension of 'separation allowances' to the wives of all sailors and soldiers, the new state systems together with traditional supports offered by service charities were overwhelmed.
In response groups and associations were founded both during and after the war to advance the cause of ex-servicemen, ex-servicewomen, and their dependents. Some veterans became involved in politics, with ex-service personnel mobilising (or being mobilised) across the political spectrum. Others chose to engage with non-political sectors to meet their post-war needs, looking to the church, trade, education or agriculture. Still others wished to shed their service identities and return to their normal civilian lives which had been disrupted by the war.
This symposium is designed as an encompassing event to explore the experiences of veterans (ex-servicemen and ex-servicewomen) and their dependents during and after the conflict, and to investigate how military service influenced their subsequent lives. While it focuses primarily on British veterans, the organisers are very keen to attract papers that offer comparative analysis with the experiences of veterans in other countries.
Call for Papers
Proposals for 15-minute individual papers are invited. Joint proposals for panels or workshops will also be considered.
Abstracts of 250 words should be accompanied by your name, institutional affiliation (if applicable) and a brief biographical statement (100 words).
Submissions are welcome from established and emerging academics (postgraduate and early career researchers are particularly encouraged), independent researchers, community projects, organisations/associations, and any other interested parties who relate to the theme of the symposium.
Potential paper topics may include, but are certainly not limited to:
Ex-service organizations during and after the FWW, which could include:
The Association of Discharged Sailors and Soldiers
The Federation of Discharged and Demobilized Sailors and Soldiers
The Comrades of the Great War
The National Union of Ex-Servicemen
The British Legion
Ex-service issues in post-war society(ies)
The involvement of veterans in politics
State responses/reactions to ex-servicemen/women
Non-State responses/reactions to ex-servicemen/women
Disabled Veterans
Ex-servicewomen and Ex-Servicewomen's Associations
Veteran engagement with the Church or religion
Veterans and Violence, Disorder and Discontent
Veterans and Radicalism
Veteran identities
Comparative experiences of veterans in different belligerent countries
Commemoration, Memory and Veterans
The language of the conference is English, and all speakers will be expected to deliver their papers in English.
There will be a small fee charged for the event, but this will be waived for speakers. We will also offer travel and accommodation bursaries (designed to support postgraduate & early career researchers and independent involvement). Please contact us for further details.
Please make all submissions through the dedicated website at https://whattommydidnext.submittable.com/submit. Request to join the mailing list, and any other enquiries, to history@mikehally.com. Further information will be posted on the event website what-tommy-did-next.org.uk
DEADLINE – 30th November 2016