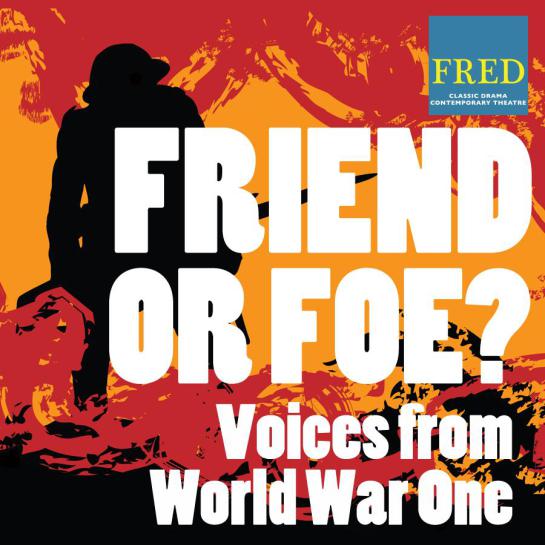 War plays X=0 (1917), Black 'Ell  (1916) and The Munition Worker (1917) to be revived at the University of Hertfordshire, 26 April 2016 @ 7pm.
As part of its interest in reviving forgotten World War I drama, the Centre for Everyday Lives is delighted to be hosting a new production of these 3 plays as staged by Stratford-upon-Avon-based Fred's Theatre  https://friendorfoe2016.wordpress.com/  on whose blog you can read more.
Rarely-performed, the plays suggest some of the ways in which First World War playwrights attempted to deal with the moral legitimacy of the conflict.  From a family's realization that their hero son returned from the Front has undergone a breakdown and no longer believes in the cause, to the musings of soldiers fighting the Trojan War and the dilemmas of a suffragette, these are the playing out of concerns on the Home Front that the authorities believed would enable fear – and also pacifism – to breed.
The event is open to all.  We hope to see you.
Performance details
Date: Tuesday 26 April 2016, 7pm (doors open 6pm). Free refreshments. Running time 2 hours 15 minutes (including post-performance Q & A.)
Venue: Weston Auditorium, DeHavilland Campus, University of Hertfordshire. Free parking.
Admission: We have 50 complimentary tickets to give away to those who would like them. This is on a first-come-first served basis. Please contact the First World War Centre to reserve firstworldwar@herts.ac.uk
Alternatively you can call the UH Arts Box Office to buy a ticket: £10.00 (£8.00 students). Tel: 01707 281127 or email uharts@herts.ac.uk  Or you may book online via ticketline http://www.ticketline.co.uk/
For further details contact Andrew Maunder  a.c.maunder@herts.ac.uk   School of Humanities, University of Hertfordshire