The eastern outpost of the Everyday Lives at War Centre held a highly entertaining and very informative evening of speakers last Thursday. We were fortunate in our programme which brought together a range of WW1 sources, from images of the beautiful 'silks' sent home as mementoes to families in Tendring to a VERY vulgar WW1 marching song vigorously delivered by Colchester's local historian, Andrew Phillips. We were also lucky enough to have a terrific exhibit – a wonderful series of display boards created by Veronique Eckstein for her 'Mersea Tales' HLF funded project. Veronique's display managed to turn a bland seminar room into a far more engaging space and her introduction to the exhibit set the war in a local context very effectively.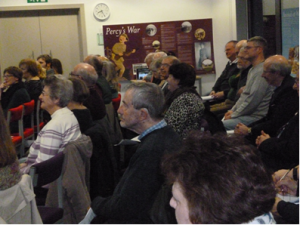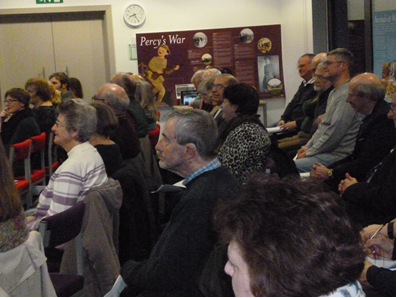 Claire Driver, the project coordinator of 'From the Trenches to Tendring' – another HLF project – came along with Judith Wolton to present a slideshow of the local archive of postcards that they've created. It was extensive, a reminder of the resources that can lie hidden in homes for a century. The cards were diverse and the collection of embroidered silks included one made for a father – relatively unusual as most of those produced were directed to mothers or sweethearts.
Diaries are a fascinating source for WW1 researchers, but it's the military ones that tend to predominate so a presentation on one from the home front was especially valuable. Ed Packard's family have farmed at Stutton for many years and he has his great great grandmother's diary, which she kept throughout the war. Alice Packard wasn't much given to reflection, but her entries give us tantalising glimpses of the war at home, not least the excitement caused by the zeppelin attacks.
Ian Hook, the Keeper of the Essex Regimental Museum, has an unassailable knowledge of the county's soldiers and his presentation demonstrated this alongside a terrific series of photographs. The images captured the men in every imaginable aspect of their lives –some of which one really didn't want to imagine, but it was a reminder that the basic human aspects of existence didn't disappear beneath the weight of grand strategy.
Our final speaker was Andrew Phillips, whose rousing marching song certainly started his session with a bang. Some lovely images here too, and for locals it was great –as it was with Ian's photos – to see the familiar streets thronged with the soldiers and cheering crowds of a century ago. Andrew has been collecting oral histories since the 1970s, so there's a rich archive of firsthand memories and he used excerpts from them to great effect.
The event was enhanced by both the 50-strong audience, whose enthusiasm for all the speakers was evident, and Mike Roper's thoughtful chairing of the sessions. All in all it was a resounding success, even though I say so myself, but the feedback forms back me up unanimously. I'm very much looking forward to the next one – hope to see you there!
Rachel Duffett