Across the country, local researchers are collecting stories about their communities during the First World War. In this article, Terry Pankhurst tells how the research that he and his wife, Margaret, undertook into the lives of those named on a Hertfordshire village's war memorials became the basis of an event which involved the whole community.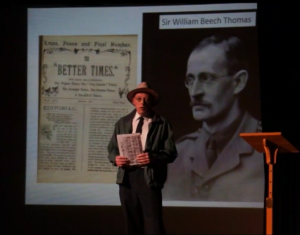 This community based show, an evening of dramatised stories and songs to commemorate the village and its part in the First World War, came about when the Wheathampstead History Society wanted to hold a talk on the newly completed War Memorial Project. This idea was further developed along with members of the Wheathampstead and District Preservation Society to dramatise the stories of not only the men at war, but also the home front.
To add to the drama of the event why not involve the Wheathampstead Dramatic Society? Add a few popular songs of the time from members of the Community Choir. Put into the mix the WI to take care of refreshments. Recruit local performers and technical crew to make it all work, and we have what was truly a community programme like nothing the village had ever seen before. All this could not work without the support of the Parish Council who kindly hosted the whole event.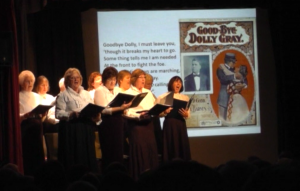 All that was needed was to write it. Try and not make it too downbeat, interpose a little lighter moments with music from the choir and a folk singer with songs of the time. The difficult bit was timing, trying to make a two hour show. Eight re-writes were needed to get it right, with changes being made up to the last night. At first ticket sales were slow, but to our great surprise we played to a full house and sadly had to turn people away. Trench cake and tea were served in the interval. The response from the audience was fantastic with some wonderful comments being made. A lot of work and sadly played for only one night as the hall is always fully booked with no chance of extending the run.
The whole event was filmed with two cameras. Each had faults in their filming, missing the action etc. I had the two films professionally edited together cutting out the bad bits of one camera and using film from the second. The result has proved better than I could ever have imagined. I have the DVD's for sale at cost price of £4.50 as a permanent reminder of what can be done with all the research into the war, and if you would like to see what we did on the night then contact me at terence.pankhurst@btopenworld.com