Contributed by Jeff Taylor, an independent researcher living in Suffolk with a background in archaeology and museums. For some years he wrote a column on East Anglian Fiction for the Eastern Daily Press. He is researching and writing a book – The Great War in East Anglian Fiction and can be contacted via email at eastanglianreader@gmail.com
"Literature is both a heritage – a form of imaginative history that gives meaning and presence to a region's history – and a vigorous continuous living thing" – Malcolm Bradbury [i]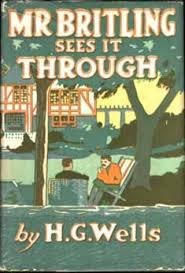 A couple of years ago I offered to talk to the 2014 Felixstowe Book Festival on Ralph Hale Mottram (1883 – 1971) the Norfolk born author of the award winning novel The Spanish Farm (1924), the first of a trilogy which was mostly inspired by his work with the "Claims Commission" in Flanders during the Great War. Meg Reid, Director of the Festival, asked if I could widen my approach and after some thought I agreed to speak on fiction inspired by the war set in East Anglia. I had a handful of well-known stories in mind but to fill things out I started to dig into the literary history of Norfolk, Essex and Suffolk to see how many more I could find. By the time of the talk I had unearthed around fifty novels and short stories written by almost as many authors, since then I've almost doubled that number.
It is clear the Great War has been a significant presence in East Anglian fiction from the time of the war to the present day.
One of the earliest novels is H G Wells' hugely successful Mr Britling Sees It Through published in 1916 inspired by Well's own life at East Glebe, Little Easton in Essex. It has been called "a masterpiece of the wartime experience of England."[ii], [iii] One of the latest is Esther Freud's Mr Mac and Me (2014) inspired by the lengthy stay of Charles Rennie Mackintosh in Walberswick, Suffolk during 1914/15 which her publisher Bloomsbury describes as a "vivid portrait of a home front community during the First World War."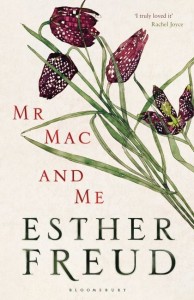 It is also clear that very little of this literature has filtered down to present day historians of East Anglia. With this in mind I'm attempting to produce from all these stories a coherent narrative which will provide, as Michael Paris has put it, '…an additional layer of understanding for the historian.'[iv]
This narrative, however, begins before the start of the war with various "invasion novels" which highlighted both local and national anxieties about the military threat from Germany and the unpreparedness of the East Anglian coast in the event of an invasion. Novels such as William Le Queux's The Invasion of 1910 (1906) and James Blyth's The Swoop of the Vulture (1909). [v], [vi]
These invasion stories have a long antecedence going back to the Napoleonic period [vii] Most of those published before the end of the nineteenth century have France and Russia as Britain's rivals however by 1903, with the appearance of Erskine Childer's ground breaking Riddle of the Sands, the threat from Germany takes centre-stage both in fiction and in reality.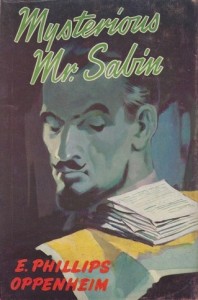 One of the earliest invasion novels that I use is Edward Phillips Oppenheim's Norfolk-based novel Mysterious Mr Sabin (1898) an example of how fiction can sometimes be ahead of the real game. [viii] The focus of the story is the delivery of British coastal defence plans to the Germans who will then aid the overthrow of the French Republic by dint of a British invasion. Lord Wolfenden, the English hero of the story, listens to some well-considered advice from a Russian attaché:
"Believe it or not as you choose, but Germany detests you. I will tell you a thing which you can think of when you are an old man, and there are great changes and events for you to look back upon. A war between Germany and England is only a matter of time—of a few short years, perhaps even months. In the Cabinet at Berlin a war with you today would be more popular than a war with France."
[i] Julian Earwalker & Kathleen Becker, Literary Norfolk An Illustrated Companion (1998), p.9. Malcolm Bradbury's quote comes from his preface to the book.
[ii] David C. Smith, H.G. Wells: Desperately Mortal: A Biography (1986), p. 222;
[iii] A personal response to the context within which Wells wrote Mr. Britling Sees It Through can be found in James Canton's Out of Essex Re-Imagining a Literary Landscape (2013) pp. 130-151.
[iv] Michael Paris, Winged Warfare (1992) p.17.
[v] Gerald Gliddon [Ed.] Norfolk & Suffolk In The Great War (1988) p.2;
[vi] Paul Rusiecki in his book The Impact of Catastrophe: The People of Essex and the First World War (1914-1920) (2008), p.14, describes how writers such as William Le Queux and James Blyth exploited local people's real fears of invasion. With regard to Essex he references in particular Guy du Maurier's well known play An Englishman's Home first produced in 1909. This long running play was set almost entirely in the sitting-room of a suburban house in the fictitious Essex village of Wickham and featured an enemy invasion.
[vii] There has been an explosion in academic and popular writings on 'invasion fiction'. The pioneer was I F Clarke with his book Voices Prophesying War, 1763-1984 (1966). A very useful internet site which details much of this writing has been created by Derek Linney – http://www.theriddleofthesands.com/
[viii] Many of the early novels I'm interested in are usefully available free of charge as digital copies on the internet including Oppenheim's Mysterious Mr Sabin – https://www.gutenberg.org/ebooks/35661