Friday 11 September 2015, 2-4pm
Discover more about any photos, artefacts or memorabilia that you have from the First World War or the years immediately following.
This is an opportunity to show your objects to a panel of experts – they cannot offer advice on the monetary value but will be able to shed light on their historical value, and the contribution they make to our understanding of everyday life at the time. Your memories and family stories about the items are all part of the picture – together, we can make windows into the past. For those interested in creating a 3-D scan of their memorabilia and sharing a digital image online, assistance and equipment will also be available. 
You are welcome to bring along your own objects to show to the experts or just come and hear the stories attached to items which have survived the past 100 years. Bletchley Park normally charges for admission, but entrance will be free for those bringing material to the Roadshow. Please email Bletchley Park at info@bletchleypark.org.uk if you plan to bring material and wish to book free entrance to the event (complimentary admission for two people per email).
Bletchley Park's new exhibition, 'The Road to Bletchley Park' tells the story of Codebreaking and Codebreakers in World War One and how their work paved the way for Bletchley Park to 'hit the ground running' in World War Two.
The Road to Bletchley Park the first major exhibition to explore codebreaking in World War One celebrates the pioneering achievements of those who waged a secret war – and how they paved the way for the Codebreakers of World War Two.
The story of signals intelligence in WW1 is an untold but crucial one, because a large number of those involved went on to work with the newly formed Government Code and Cypher School (GC&CS) in 1919, which then relocated to Bletchley Park in 1939.
For further information click here.
For information about visiting Bletchley Park please go to their website.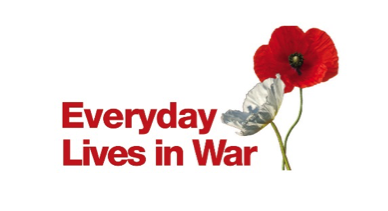 Everyday Lives in War is based at the University of Hertfordshire.