Monday 15th June 2015
6-8p.m.
University of Essex, Ivor Crewe Seminar Room, Wivenhoe Park, Colchester, CO4 3SQ
Free admission. Tea, coffee and light refreshments will be available
For more details or to RSVP please email us at firstworldwar@essex.ac.uk , or contact Rachel Duffett, Department of Sociology, University of Essex, CO4 3SQ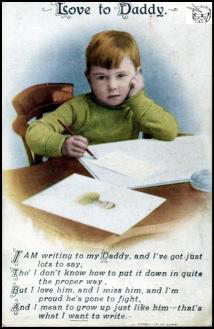 Over 2013-4 Age Exchange worked across London to film and record interviews with members of the public. People shared immensely powerful and moving family histories of how their family was affected by the First World War, then and across subsequent generations. 127 family histories were recorded and archived and 5,300 letters, diaries, photos and artefacts digitalised.
David Savill, Simon Purinš and Ivan Riches have created a 50 minute film which captures some of these remarkable stories for the first time and following the screening they will be talking about their experiences and the legacies of the war that their work revealed.
 For more details of the Age Exchange project visit their website