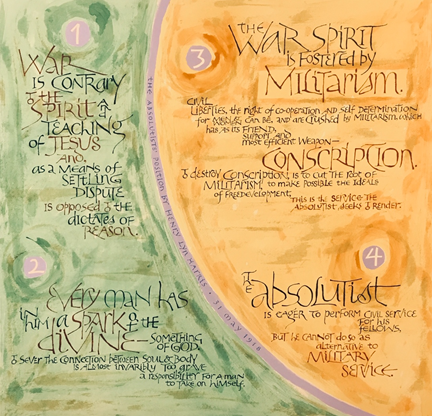 Bristol Cathedral, College Green, Bristol BS1 5TJ, 25th April -31st May
'The Art & Nature of Conscience' explores World War 1 conscientious objectors' thinking about conscience alongside their words and artwork. It also show-cases contemporary artists' reflections on these men, including a new piece by Stephen Raw, 'The Absolutist's Position' (pictured).
From Monday to Friday the Cathedral is open to visitors from 8.00am until 5.00pm, unless you wish to attend Choral Evensong or Evening Prayer at 5.15pm.
On Saturdays and Sundays the Cathedral is open from 8.00am until 3.15pm, unless you wish to attend Choral Evensong at 3.30pm.
Please note – sometimes there will be special services and events happening in the Cathedral which may mean that these times change, and that we have to close to the public temporarily. Please see the 'What's On' and 'News' sections for more detailed information about what is happening.
See https://bristol-cathedral.co.uk/visit-us/opening-hours/ and https://bristol-cathedral.co.uk/whats-on/ for further information