Contributed by Andrew Maunder
The War clearly had a disruptive effect on all kinds of aspects of Home Front life. This included the nature and scope of criminal activity. It may have been popular to suggest that war-time Britain was working together in a common cause but her population still had its unheroic moments.
Newspaper stories featuring criminal cases acted as powerful and provocative alternatives to the reports from the Western Front. From sugar hoarders to serial killers, Andrew Maunder highlights five cases which gripped the nation.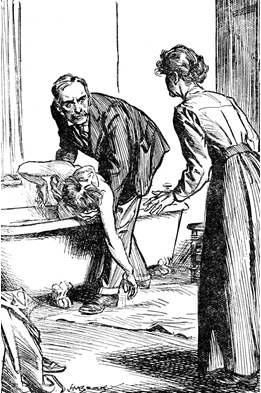 Ladies' man, bigamist and forger, George Smith (1872-1915) would probably have got away with murdering his well-insured wives in their baths had he not pushed his luck for a third time in autumn 1914. Having disposed of Bessie (nee Mundy) in 1912 and Alice (nee Burnham) in 1913, Smith took new wife, Margaret Lofty to a boarding house in Bismarck Road, Highgate. He ascertained that it had a bathroom – not necessarily a standard feature at that time. On 18 December 1914, Margaret made a will in Smith's favour, returned to the lodgings and took a bath while her husband played "Near My God to Thee" on the piano downstairs. The landlady heard the sound of splashing. Later, Margaret was found drowned. The inquest verdict was "death by misadventure." But the circumstances of a bride dying on her honeymoon were tragic enough to make the News of the World: "FOUND DEAD IN BATH – BRIDE'S TRAGIC FATE ON DAY AFTER WEDDING" (3 January 1915).
Smith's career began to unravel. Alice Burnham's father, who had never trusted Smith, read the newspaper, recognized the similarities with his own daughter's death at a boarding house in Blackpool twelve months earlier, and contacted the police. So, too, did the boarding house's owner, Joseph Crossley, who had been struck by the bereaved husband's indifference to his wife's death and the cheap coffin he had ordered.
At Scotland Yard, Detective Inspector Neil put aside his pursuit of suspicious foreigners to pursue the case.  Smith was difficult to track down but when the grieving husband arrived at a solicitor's office to collect Margaret's £700 insurance money, he found the police waiting for him.
After a packed Old Bailey trial featuring 112 witnesses, plus demonstrations of how easy it is to drown someone in a bath (by crooking your arm under the knees and dragging them lengthways), Smith was hanged at Maidstone Gaol on 13 August 1915. Montague Sherarman, his junior defence counsel, later recalled his client's hypnotic stare which had worked so well on dozens of women: "he had a horrible way of looking at one" (Rose, 45)
In 1915, Twickenham, adjacent to the River Thames, had about 30,000 homes. It had expanded rapidly in the years 1890-1910. The Rugby Union ground had opened in 1909.
The outbreak of war brought with it some familiar upheavals including a large influx of Belgian refugees.
The following report from a local paper, the Richmond Herald, records what seems to have been a very dramatic encounter in this otherwise quiet place. The events took place in a location remote from the war front but they prompted important questions about the impact of the conflict: did serving soldiers bring back new unlawful behaviours, and how did the people at home react when confronted with these unsettled and (possibly unwelcome) men?
"Friday: A Cancelled Marriage"
"Thomas Charles Herron, 30, of Orleans-road, Twickenham, was charged with threatening to chop off the head of Minnie Hartley with a chopper at Orleans-road. – Prosecutrix said that prisoner was a stranger to her; he lodged at her house. Prisoner last night said he would cut her throat, and when he got a razor she flew out of the house. Last night he came home drunk, stripped himself stark naked, and said he would do for her. He took the razor and she went away. When she returned with a constable, prisoner took the chopper and threatened to chop her head off. –  By prisoner: Prisoner had given her money for his keep. He threatened her with a razor and a chopper.
By the Chairman: Prisoner came in April. He really forced himself there: she did not want him. – Police constable 539 said he was called by the last witness who said the lodger was running about naked with a razor. He saw prisoner in a nude condition: he picked up a chopper and refused to let prosecutrix in, and said he would chop her head off. After an hour prisoner opened the door. The witness went in and prisoner assumed a fighting attitude. When prisoner was dressed he was arrested and shouted `Murder' all the way to the police station. –
Police Constable 34T said he saw prisoner nude and heard the threats. – Prisoner said that he had the intention of marrying the prosecutrix and on Wednesday he found another man drinking whisky with her. He then said he should join the Army, and was examined and passed by a doctor. Next night when she heard that she made a great disturbance and slapped his face. He had intended to leave quietly. If he was released he would go straight to Richmond and join the Army. – Detective Banks said that in 1911 prisoner was convicted of theft from a gasmeter. Prisoner had been in the Army and was discharged. – In reply to the Chairman prisoner said he was joining the Queen's Bays. – Prisoner was bound over for six months."
[Source: "A Cancelled Marriage", Richmond Herald 23 January 1915, p.15.]
3. Robbery with violence: William James Robinson and John Gray (1916)
The shadow of the war and its effects spread over the whole country but London remained the crime capital, especially as far as violent crimes were concerned. The night-time blackout, combined with 100s of soldiers on leave or convalescing, gave new opportunities to unscrupulous people.
Overseas troops were seen to be especially vulnerable in the city's dark streets: robbery, unlicensed gaming, soliciting by prostitutes, illegal drinking in backstreet dens, cocaine all feature in crime reports. Cases of assault on colonial soldiers were given a good deal of attention in the press. Sometimes things got more serious – as the following report from the Metropolitan Police indicates:
"At 9pm 26 November, Inspector Annise [E] was informed that an injured man was lying in the footway of Upper St, St. Martin's Lane, opposite Aldridge's [a horse and carriage repository]. He went to the spot and found a Canadian soldier named Alfred Williams, 26, on the ground, unconscious and bleeding profusely from an injury under the right ear. He was conveyed to Endell Street Military Hospital, where he was seen by Dr Buckley, who pronounced life extinct.
Enquiries led to the arrest of William James Robinson for murdering Williams by striking him behind the right ear with a thick glass tumbler.
At the adjourned inquest held on 14th December 1916, a verdict of wilful murder was returned against William James Robinson.
[Source: Met Police Register of Murders MEPO 610]
William Robinson, 26, had been a shoemaker living in Museum Street. He and a companion, John Gray, 24, had apparently met up with two unnamed women in The Sussex Arms. They agreed that the women would act as bait for soldiers: Alfred Williams and another soldier became their targets. Earlier, in the same bar, another Canadian soldier had been seen to entrust Williams with £26 whilst he went off with two other women.
After an Old Bailey trial, Robinson was found guilty and was hanged at Pentonville Prison on 17 April 1917. His accomplice, John Gray, was sentenced to a term of three years for manslaughter.
4. Marie Corelli fined for hoarding: 1918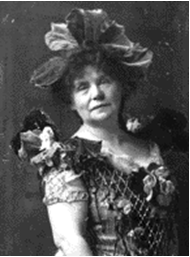 The message that even "respectable" people could be involved in criminal activity was confirmed when best-selling novelist and self-publicist, Marie Corelli (1855-1924), was prosecuted for hoarding large quantities of sugar. Corelli was a phenomenon whose lurid novels, which included The Sorrows of Satan (1895) and The Romance of Two Worlds (1896), brought her a great deal of money. The critics mocked her work but the public lapped it up. A prison officer at Reading Gaol once asked Oscar Wilde if he considered Marie Corelli a good writer. "Now don't think I've anything against her moral character," he answered, "but from the way she writes she ought to be in here."
When war broke out, Corelli was living in Stratford-upon-Avon, believing it her spiritual home. She became energetically involved in fund-raising and it was under this pretext that she persuaded grocer Thomas Lipton to send her large quantities of sugar. The merchandise duly arrived at Corelli's home Mason Croft in large crates marked "Sugar." Corelli was unmarried, had no family and shared the house with a companion. What did she want it for? Reports reached the authorities. Corelli was a domineering figure in local circles and there was no shortage of people glad to see her taken down a peg.
When questioned under the Hoarding Act, Corelli claimed she had planned to make jam for deserving causes. On 2 January 1918 she was convicted in the local magistrate's court and fined £50, plus 20 guineas costs. "I am a patriot", she protested but her reputation never really recovered.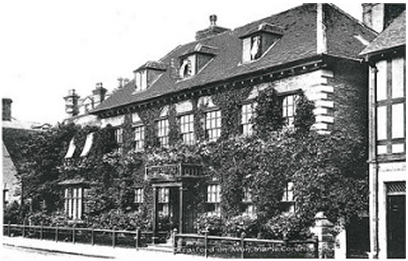 5. "A wife's confession": Mrs Gladys Canham admits she has venereal disease and pays for it: 1918
From 1914 onwards, sexual promiscuity was of great concern to the national and civic authorities as something which could destroy the nation. Various public figures and organizations also declared themselves offended by the widespread moral turpitude and argued that country's fighting strength and the family unit was being destroyed at home.
Not surprisingly, this topic acted as a mixing bowl for all kinds of misogyny, anger, prurience and envy. As the war progressed much of it was directed at married, as well as unmarried women –soldiers' wives were seen to be enjoying themselves a little too much, as their husbands discovered when they returned. A moral lesson was dealt in London in January 1918 when one wife, Gladys Canham, was shot dead by her husband, Private Henry Canham, with his service revolver.
During her husband's absence in France Mrs Canham had apparently led an "immoral life" being seen on many occasions with colonials and other soldiers. Private Canham received a letter drawing his attention to this fact:
"Your wife is not going on as she ought to. She stops out all night and has sold up most of your things. She has left the baby by itself, and the poor little thing cries all day. I have seen her out with Australians. God is above the devil always. You have a good mother and she has shed many a tear about you" (quoted in Daily Telegraph 1 February 1918 p.8).
When Private Canham came home on leave his wife told him she had contracted venereal disease from an officer. In the early hours of the morning, neighbours heard a shot and Mrs Canham was found dead on her bed. "I consider I only did my duty as I did in France" the husband told police.  He explained that he "had enough to think about with shells bursting around him all day" without his wife "going on the wrong road." At Canham's trial, the Old Bailey jury accepted a plea of manslaughter (not murder) and he was bound over to keep the peace for two years ("Manslaughter of a Wife", The Times, 1 February 1918, p.3)
There were several other cases of this kind involving returning soldiers. Despite differences in rank and class, all seemed to point to the "frailty" of women, the slow unravelling of the family unit, and the unequal sacrifices which had been made since 1914.
Further Reading
Critchley, A History of Police in England and Wales, 1900-1966 (1967).
A. C. Gatrell, "The Decline of Theft and Violence in Victorian and Edwardian England". In Crime and the Law, eds. V.A.C. Gatrell, Bruce Lenman and Geoffrey Parker, (1980), 238-337.
De Groot, Blighty. British Society in the Era of the Great War (1996).
Philippa Levine, "Walking the Streets in a way no decent woman should. Women Police in World War One", Journal of Modern History 66 (1994), 34-78.
Sylvia Pankhurst, The Home Front. A Mirror to Life in England during the First World War (1932; 1987).
Andrew Rose, Lethal Witness:  Sir Bernard Spilsbury. Honorary Pathologist (2007)